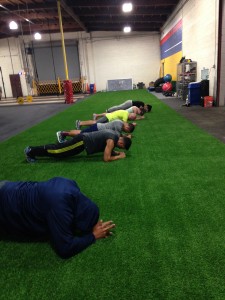 Weightlifting:
Clean and Jerk
65%x 2
70%x2
75%x1
80%x1
85%x1
90%x1
proceed to heavy single (2 misses and done)
Or
Work-up to Heavy Thruster ( Beginners)
Conditioning:
Conditioning – For time in teams of 2 or 3:
100 Wall Ball shots each
The partner who is not performing wall ball must be in a plank. The partner performing wall ball shots may ONLY perform them while the other partner is in a plank.
For teams of three, two people may perform wall ball shots at a time, but only while the third team member holds the plank.