What brought you to Dogtown Athletic? Did you have specific goals or something you were seeking to change?
I got started at Dogtown through my kids.  Bringing them in for their crossfit classes gave me a chance to check out the gym and start a conversation with my trainer.  I was interested in scheduling more gym time to get into better shape.  I realized that my current workout sessions were just maintaining what I didn't like about my body.  After 2 kids (many years ago) and the stress of life changes, I was ready to claim my body back.  The timing was right to finally focus on me.
What keeps you coming back?
I enjoy the challenging workouts and the results I've achieved over the last 5 months.
What changes have you seen in yourself (physically, mentally, as a person, etc)?
I've always enjoyed exercise as a way to stay fit both physically and mentally.  The addition of training at Dogtown has dramatically increased my level of happiness and feeling great about myself.  Mentally I feel great and the need to buy smaller clothes is a wonderful feeling.
What's been the biggest challenge that you've faced? How did you overcome it (or how are you working on it)?
The biggest challenge has been combining the increased workouts with a diet that compliments the hard work.  I've used the assistance of the food delivery system for specific lengths of time to help me manage calorie intake and portion control, essentially creating better eating habits.  It's still a struggle to maintain a proper diet but I keep working on it.
What's one thing you've learned through your time at Dogtown Athletic? This could be about health and fitness, about yourself, or about how to approach life in general.
I didn't think it was possible to get back in shape as quickly as I have.  I was skeptical of the results I would see.
 What goals (big or small) are you working towards now?
I'm proud of the work that I have done and the results that I've achieved.  I'm slightly off my goal and feel that I will reach it in a healthy way over time.  Now I'm working on increasing my endurance and strength to get through the workouts.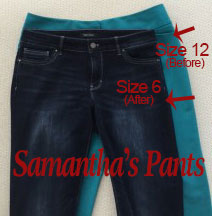 What's your favorite time of day to be in the gym and why?
I prefer the morning hours just after the kids have gone off to school.  That gives me time to clean up after and still get errands done before they get out of school
If you could go back and give yourself one piece of advice before you started coming to our gym, what would it be?
Don't put it off.  There is always a way to find time.
What do you think you can do now that you didn't think you could do before?
I have more endurance for treadmill work.  I run at a much faster pace.
Was there anything you were afraid of before signing up and how has that changed?
I wasn't sure how I would feel working out in such a rugged setting but everyone is welcoming.  I like how the trainers have flexibility in their training methods and that they have a real interest in their clients achieving their goals.